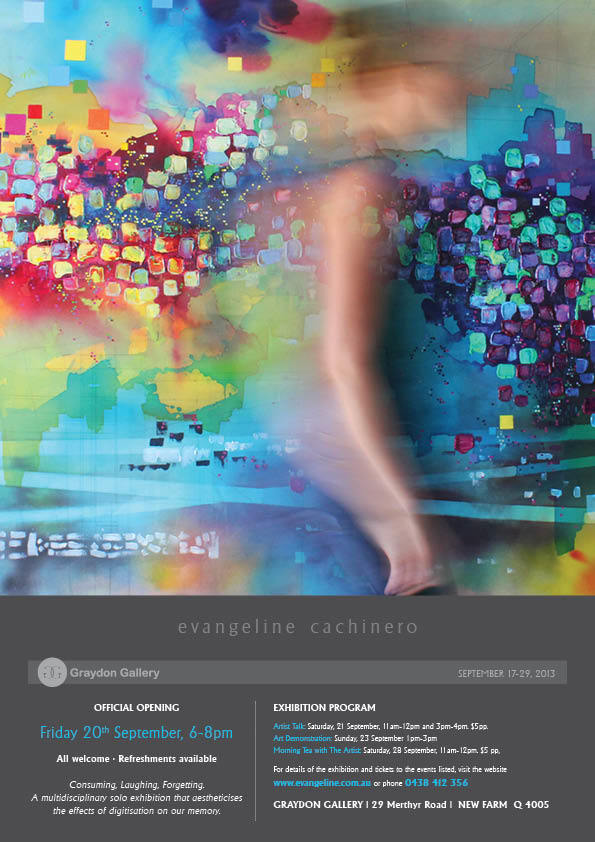 Evangeline Cachinero presents a solo exhibition at Graydon Gallery.
'Consuming, Laughing, Forgetting' is a multidisciplinary solo exhibition about memory and the effects of living in the digital age.
OFFICIAL OPENING
Friday 20th September, 6-8pm
All welcome • Refreshments available
29 Merthyr Road | NEW FARM QLD 4005
t: (07) 3254 2325 m: 0438 412 356
GALLERY OPENING HOURS
Tuesday-Sunday, 10am – 5pm
EXHIBITION PROGRAM
Artist Talk
Saturday, 21 September
11am-12pm and 3pm-4pm. $5pp.
Cachinero discusses her work, highlighting inspiration and process.
Art Demonstration
Sunday, 23 September 1pm-3pm
See Cachinero at work on one of her pieces on paper and get insight into her process and technique.
Morning Tea with The Artist
Saturday, 28 September
11am-12pm. $5 pp, Join Cachinero for a casual meet & morning tea.